Presented by John W. Hayes (formerly of the Budapest Sun Online) and author of the best-selling book, Becoming THE Expert – Enhancing Your Business Reputation through Thought Leadership Marketing, the half-day event will demonstrate how businesses and individuals can build their profile and reputation, generate leads and ultimately sell more via a social-enabled, content-led marketing strategy.
Following the publication of his first book (he has since published three more), John's position as a thought-leader in the world of content, email and social media marketing has been supported by speaking engagements all over the world.
John said: "I've had the pleasure of delivering my marketing seminars everywhere from San Diego on the west coast of America to Istanbul in the furthest reaches of Europe and pretty much everywhere in-between. I'm especially excited about returning to Budapest, as this is the city where I largely honed my craft back when the Internet was in its infancy."
He continued: "One of the things I love about blogging and social media is the fact it is a marketing strategy that is available to anyone, regardless of budget. My seminars have attracted attendees from Fortune 500 companies to small, home-based businesses – and they all learn from each other as well as from my personal experiences."
John W. Hayes closing the Digital Marketing Show at the Excel Campus, London in 2014.
Topics covered in the seminar will include:
How to craft the perfect blog post
How to drive traffic to your blog
How to build community around your blog
How to integrate your blogging activities with your wider email marketing and social media strategies
How to create an effective call-to-action (CTA)
How to attract and work with guest bloggers
How to monetise your blogging activities and create new streams of revenue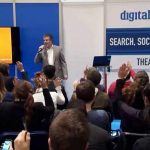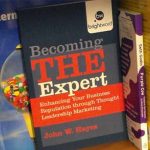 Tickets for the event are limited and available from: https://bloggingandsocialmediabudapest.eventbrite.co.uk
You can find the event on Facebook HERE