Ever since the regime change in the early 1990s, Budapest has been inundated with foreigners who have remained in the city for work, marriage and retirement. Using English as a common language, a natural development was theater performances presented in English.
While many such companies have come and gone, there is still English-Language theater available in Budapest. Here are a few of the repertory companies.
DramaWorks is a Theatre School and a professional Theatre Company in Budapest.
In 2018 DramaWorks produces the Pulitzer-Prize and Tony Award-winning play 'Proof', a professional production in Spirit Színház. 'Proof' by David Auburn is an English language play starring professional actors – Sloan Thompson, Faye Bradbrook, Scott Alexander Young and Dan Stroiman.
Students of DramaWorks Theatre School will also put on a number of plays and musicals on stage in May and June 2018. 'Bugs' by Rebecca Webber and Aaron Webb, 'There is Always One' by Ali Dee and Sloan Thompson and 'The Litter Muncher' by Niki Davies are musicals starring the youngest students ages 3-6 years, meanwhile 'Pirates vs. Mermaids' by Gaynor Boddy and Rebecca Kincaid, 'Space Pirates' by Jeff Bengford and Dianne Saichek and 'Peter Pan' based on the works of J. M. Barrie adapted by Kathryn Schultz Miller are also fun musicals played by children aged 7-12 years.
The teenagers on one Pest and two Buda locations rehearse for the play 'The Unbearable Liteness of Being Teen' by Angela Hill and two musicals 'Kamp Kaos' by Stephen Murray and 'Robin and the Sherwood Hoodies' by Craig Hawes.
DramaWorks is a way to experience the theatre production process from the first rehearsal to opening night. The performances by the adult and senior students are polished productions, this year adults showcase 'Cannibals' by R. J. Colleary and 'The Captain's Treasure' by T. James Belich. Although the actors are amateurs, the staff at DramaWorks are highly professional tutors and directors.
For details on the upcoming performances check the DramaWorks website or facebook site regularly. Or if you would like to try being an actor for a semester, find out more about their training programmes for all ages here.
In 2015 Red Ball Theater brought Chicago-style improv to the Hungarian capital. Their theater is not comedy but rather an exploration of human connection that goes deep down the rabbit hole of the human experience. They are best known for their classes where they turn introverts into artists, artists into leaders and leaders into visionaries. With over a hundred students in the last three years they are the true melting pot of Budapest where expats and locals develop true friendships. Open workshops are every Wednesday with topics ranging from storytelling to characters, status and power to public speaking. The theater is in an intimate basement on Gyulai Pal utca 5, two minutes from Blaha Lujza square.
Upcoming event: A game show about the foibles of being a foreigner among magyars called "Who wants to be a Hungarian."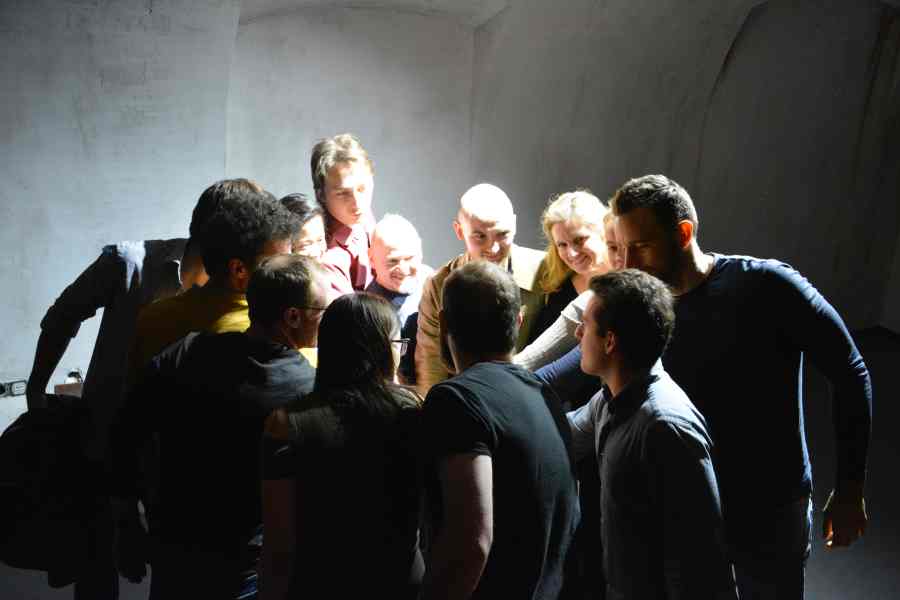 is a multicultural theatre company whose performance is a unique mix of prose, poetry and dance. The company, under the management of Croatian actress Čarna Kršul, has already staged their signature play, the House of Asterion, by Luis Jose Borges, in March 2017; a further performance will be presented on May 4 at the Thália Színház.
This play is a special mix of prose, poetry and dance which "re-" tells the classic story of the Cretan Minotaur from an alternative perspective; "It is a fiction that holds a mirror to reality."
is Budapest's longest-running improvisational company, performing their own special brand of theater since 1998. Their main approach is based on improvisation and devising. Their shows have a generally British landscape, often embracing the emotional and the dangerous; they don't just want to be funny improv clowns, they also want their shows to be humorous, sad and moving and to engage the audience actively.
The people in Scallabouche are a mixture of foreigners and Hungarians. This mixture is what makes them unique and means they "tend to look at events and themes in Hungary with an outside perspective."
Scallabouche continues to push the boundaries of improve theater, helping audiences "understand the drama inside you so you better understand the drama around you."
This chamber theatre company was founded by Oliver Micevski who came from Macedonia and, like so many expats, decided to stay in Budapest. This company puts on new theatre forms, artistic experiments and eclectic and courageous productions. They usually play at RS9 and have produced such shows as "Unveiling, "Glass Menagerie," "Lolita" and "Hi-Fi."
Another teaching theater venue, Forum Company is a group of drama enthusiasts who organise drama classes in English and Hungarian. They offer workshops on an irregular basis through their Facebook page.
They welcome students of all nationalities who want to play in English. Their program includes forum theatre, trust games, playback theatre and situation exercises. Students don't have to be budding actors, but do have to have an interest in the theatre.
"esō theatricals is a nonprofit organization that connects the local Hungarian and Expat communities. The aim of esō theatricals is to encourage the growth of English Language theater productions in Budapest by presenting renowned musicals and exposing audiences to performers of the highest caliber." (source: www.esotheatricals.com)
Their "casts are diverse, typically including at least five different nationalities and are welcome to individuals of all gender, race, ethnicity, sexual orientation, and identity".
BONUS: Shows with English 'surtitles'
Budapest now has quite a few theatre performances which are accompanied by English 'surtitles.'  Surtitles are just like movie subtitles, but they appear on a screen above, below or to the side of the stage during theatre performances. Be sure and double-check if English subtitles will be provided before booking tickets
The theaters offering subtitles include Katona József Theatre, Madách Theater, the Hungarian State Opera House and the Erkel Theatre. There are also quite a few performances at the National Theatre with English subtitles.
Currently inactive but we hope they come back soon: Budapest English Theatre
Another group of local actors decided to expand the English-language theater scene and formed an independent company to offer this entertainment. Their shows have become popular among the expat community as well as Hungarian theatre-goers and art lovers looking for something different. They produce one show at a time, which is shown at various venues. They remain artistically and financially independent, so every new show is a challenge to find a venue and money to fund their production.