" Comfort food: food prepared in a traditional style having a usually nostalgic or sentimental appeal."
(source: Merriam Webster Dictionary)
A bowl of soup or a steamy plate of our favourite dish can take us right back to our grandmother's kitchen where we ate the exact same thing many years ago. The tastes, textures, colours, spices… the whole symphony on the plate in front of us creates a feeling of comfort in our soul. Food like this makes us feel safe and happy, it gives us exactly what we'd expect, it doesn't try to be more than what it is – and that's just the way we like it.
Hungarian cuisine might be very different from that of your own country, yet this feeling of comfort that hearty food can induce is always the same, no matter where we live or what language we speak.
Rakott burgonya is one of the ultimate Hungarian comfort foods. Once again we visited incredible chef Krisztián Balogh in the beautiful VígVarjú restaurant to see how a young chef, filled with energy and creativity approaches such a classic Hungarian dish and makes it his own, while respecting the traditions of our grandmothers.
It's really simple, so screenshot the list of ingredients, hit the supermarket and get in the kitchen – this dish will definitely not fail to impress! Don't hesitate to use duck fat – it's a traditional way of preparing the dish and gives it an extra special flavour. It is perfect with a side of savanyúság (pickled vegetables) that you can get from your local market, or maybe even make yourself.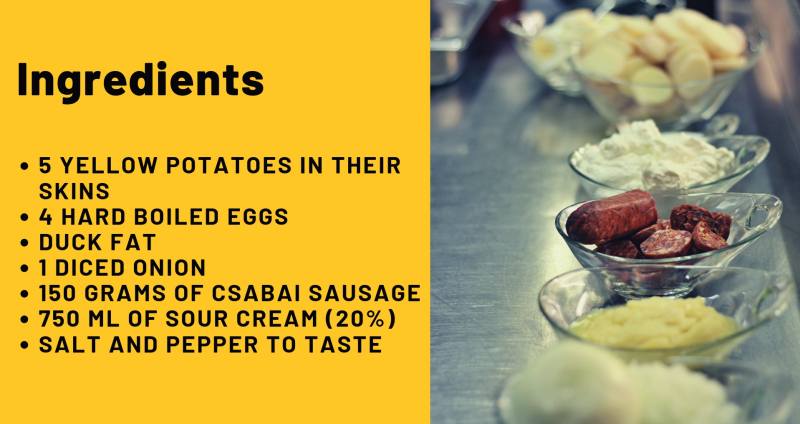 Preparation: 
Steam 5 yellow potatoes in their skins, clean and slice them, then salt lightly. Boil 4 eggs, slice them up. Dice 1 onion, fry in duck fat. Fry 150 grams of thinly-sliced Csabai sausage. Take the sausage rings out, drain the fat and mix the onions with 750 ml of sour cream (20%). Salt and pepper the sour cream to taste. Lay half of the potatoes, all the eggs and the sausages down in the dish and pour two thirds of the sour cream mix on top. Add the rest of the potatoes and pour on the remainder of the sour cream. You can place small knobs of butter on the top, this will make the dish even juicier. Put the dish in the oven and roast for 30 minutes at 180 degrees.