The Expat Press team visited VígVarjú, the newest and perhaps most beautiful restaurant of the group to taste a real goulash soup.
The first VakVarjú restaurant was launched in Paulay Ede utca in the centre of Budapest. Combining Hungarian flavours with international concepts it quickly became a great success, and today we can meet the logo of the iconic bird (varjú=crow) at 6 locations throughout the city.
The creative chef of the group Krisztián Balogh, who returned to Budapest last year after eleven years in Scandinavia, is responsible for the gastronomic approach. The young chef previously revealed Hungarian flavours to the international public in the local Bock Bistro in Copenhagen, and his cooking received acclaim even from the owner of Noma. It is there that he first conceived his iconic dish, pork tenderloin with black pudding garnished with baked Jerusalem artichoke and beetroot, which is now on the menu at VakVarjú and has enjoyed great success in the Vigadó building as well as in other venues.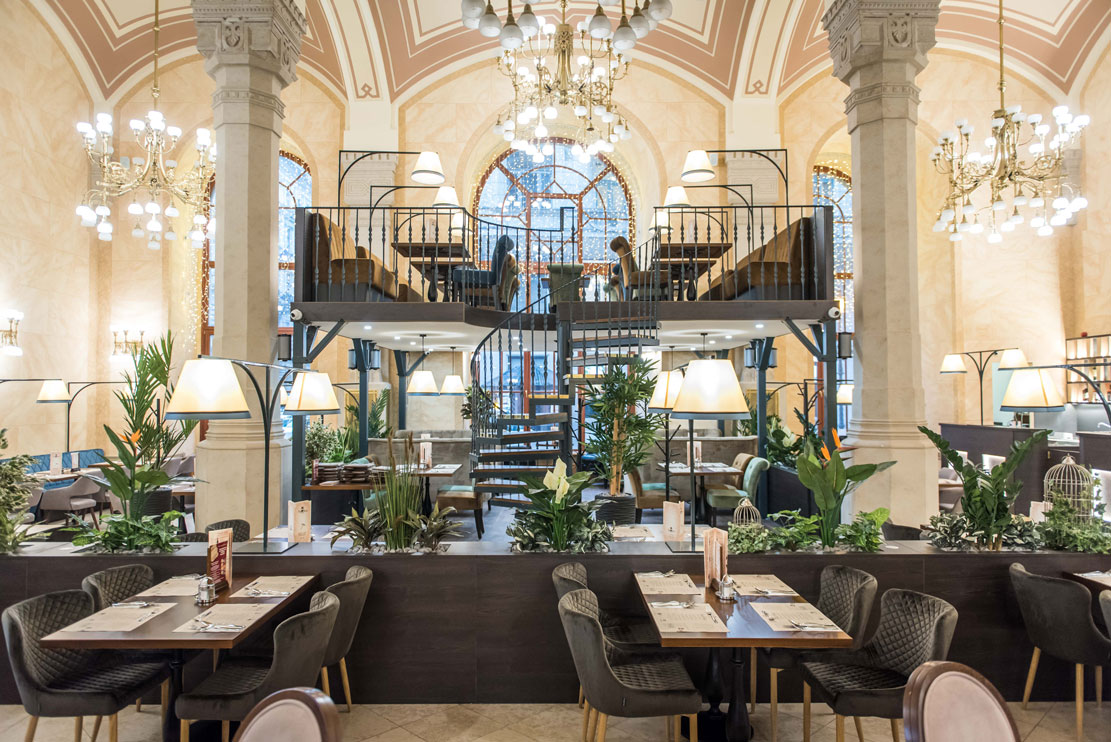 Krisztián insists on traditions, and he serves Hungarian dishes without compromise by using original ingredients, avoiding fusion and the smuggling in of any ingredients which do not belong there. His quark dumplings arrive in huge portions garnished with sweet sour cream, while an abundant amount of seared cabbage provides the taste for his cabbage noodles.
And how does he make his goulash soup? He reveals the secret in the first article of our new series.
VígVarjú has been welcoming its guests since 2017 in the imposing Vigadó building in the vicinity of the Danube Promenade. The restaurant welcomes visitors with its customary friendly and homely atmosphere in a relaxed environment and with live piano music in the evenings, a historical venue since 1833 which is one of the key locations of life in Pest.
Traditional goulash soup (for 4 people)
Beef leg
Onions


Pork fat




Red paprika powder




Ground caraway seeds




Garlic




Tomatoes




Peppers 




Potatoes




Carrots




Parsnips




Celery




Salt to taste




Green pepper




Bay leaf 

400 g
120 g
40 g
1 tablespoon
8 g
1 clove
40 g
40 g
320 g
80 g
80 g
80 g

half


1
Preparation:
Chop the meat into cubes and sear. Fry the onions in hot fat, add the bay leaf. Put in the meat, stir, then remove from the heat and sprinkle with red paprika powder. Add the garlic, the caraway seeds, the pepper (whole), the tomato (whole) and the salt. Fill up with water (2 litres). Braise the meat, and when half cooked, add the diced root vegetables. Add the potatoes about 20 minutes before the end. Bring to the boil once more when finished, then serve. Best served with fresh Hungarian bread.
Check on VígVarjú for more on their website and Facebook page.