While our last neighbourhood guide was about the the Great Market Hall Area, the heart, soul and former border of Pest city, this time we're going 4km to the northwest, all the way to Buda and its no. 1 meeting point Moszkva tér.
If you're wondering what or where Moszkva tér is, you must've moved to Budapest after 2011 – that's when the government decided to label the square back to its original name Széll Kálmán tér. Nevertheless, most people who grew up here before that, still stick to "Moszkva", since Széll Kálmán tér feels somehow weird and estranged.
Overview
"Moszkva" came a long way in the last few years. If you're fairly new to Budapest you might think of it as a pleasant and modern hub for public transportation, however this was by far not always the case. In fact, this "tér" used to be the complete eyesore of the Buda-side and before its renovation it looked so run-down and miserable that it even hurt a bit to exit the metro here. Still, these didn't keep anyone from regarding it as the main meeting point of this part of the city.
"Találkozzunk az óránál" ("Let's meet at the clock") was a sentence people heard and said at least four times a week, while "the clock" was indeed a proud beacon standing in the middle of the square and consoling Moszkva tér that times will change, eventually. And they did!
Today, the old clock is gone (there's a shiny new one instead) and escalators make for better accessibility, while the whole square shines in a completely new splendour. Only the roof of the metro entrance reminds us winkingly and with a deliberately socialist charme, what it used to be like here just a few years ago.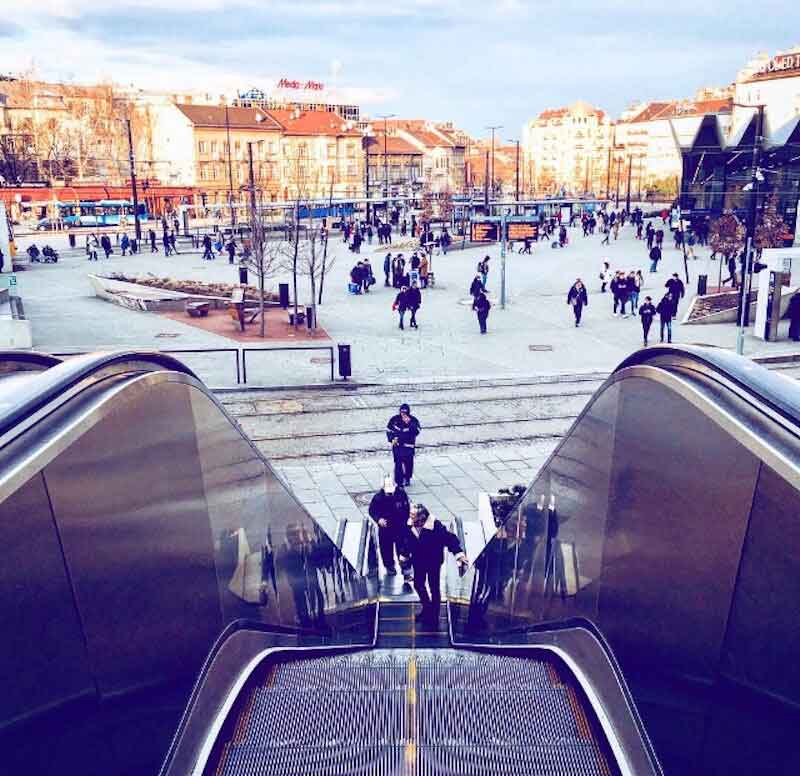 Since we're in Buda, the land of peace and a slower pace, this neighbourhood guide will be a lot ampler than the last one, at least in a spatial sense. We're going all the way to Margaret Bridge from Moszkva tér and will even give you some bonus tips towards the other direction. There's a hell lot to see, do and eat in this very residential part of town, so let's dive straight in:
3 Things You Absolutely Shouldn't Miss
Kicking back at Millenáris Park, Buda's special interpretation of a modern Japanese garden
Visit Bambi, Marxim or both for an ultimate time travel experience
Shop at Fény Street Market, a very local and residential market full of nénis, bácsis, fresh fruits and vegetables and a killer lángos
What to See
Although not on the main tourist track, Moszkva Square and surroundings are definitely not short on sights. Many of them are strategically concealed by the rather ugly Mammut Shopping Mall, so it's definitely worth to scratch below the surface.
Also, the POI-s you'll find in this part of the city are much less obvious than what you're probably used to in in the inner districts. Still, they all have an interesting story to tell so again – keep your eyes and mind open and you'll experience real gems in this central part of Buda. Here are our favourites:
Millenáris Park
This amazing park right behind Mammut Shopping Mall is one of our favourites in whole entire Budapest. Not because it's the most beautiful or because it makes for a perfect recreational area. We like it because it's so special and peculiar. The area where Millenáris is located is actually the old site of the Ganz Iron Foundry, a plant that was part of the famous Ganz Works which actually used to rule Budapest's heavy industry for over one hundred years (1845-1949).
A part of the old factory is still situated in the park and serves as a cultural centre hosting exhibitions, concerts and even parties. The park itself is an interesting interpretation of something that looks like a Japanese garden. There are artificial lakes, a bridge crossing one of them, a tree right in the middle and if you look down you'll see gigantic orange fish having the time of their lives in the water. Also, the park hosts the Invisible Exhibition (see below) – an absolute must during your time in Budapest.
The Invisible Exhibition
The permanent Invisible Exhibition is an absolute must see (no pun intended!) for everyone. We'd rather call it a must-experience kinda thing. This is the place to feel into the life of a blind person really intensively for a short time. If you sometimes feel that life has given you lemons, this will do the trick:  Cross a street, pay and shop in total darkness and you'll sure learn to appreciate the beauty that surrounds you every day really quickly. Throughout the exhibition you'll be guided by blind people who are happy to answer everything you never dared to ask a visually impaired person.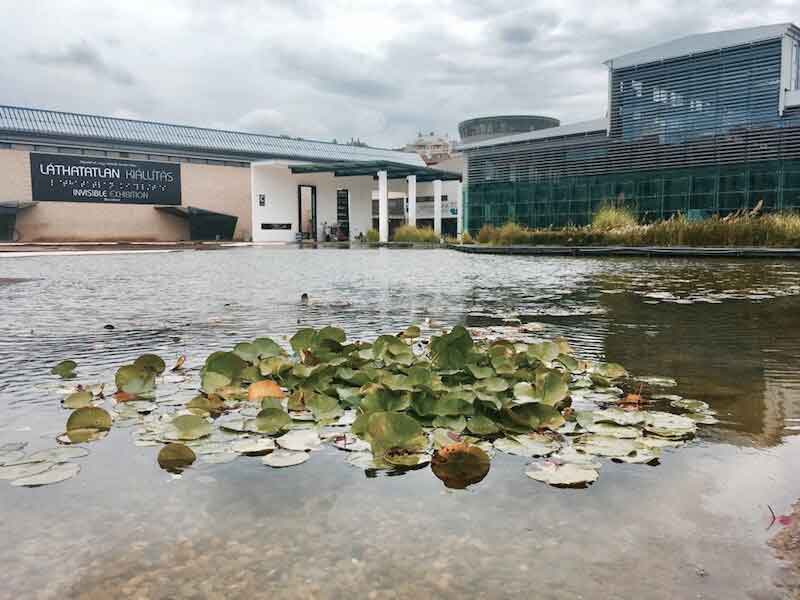 Lövőház Street
This awesome little pedestrian street is another gem of the Moszkva tér area located right behind the Mammut Mall. Lövőház utca came a super long way in recent years from being a nothing to write home about-road to becoming one of the most pleasant residential car-free streets of the city.
It's a street lined with little cafés, restaurants and some of our favourite casual wine bars of Budapest (more on these in our "Where to eat"-section!). Oh, and it hosts the back entrance of Fény Street Market, which is one of the best local markets in town (read more on that below).
Bauhaus Architecture on Margit Körút
Although Margit Ring Road itself is definitely not what you'd call a beautiful boulevard, we very much like it for two reasons. It's the perfect display of what Budapest looked like if it hadn't changed that much in the last years. Plus it's full of interesting houses built in the Bauhaus movement style around 1930s.
During that time many people from the countryside were seeking work in the capital which caused a big housing shortage. These modern and edgy apartment buildings were partly the answer to that. You'll have to look closely though, since most of these buildings won't strike immediately. But keep your eyes open, look up often and you'll see them! The most eye-catching Bauhaus building on the whole körút is probably the Àtrium cinema at number 55 which is one of the oldest cinemas of Budapest.
Àtrium Cinema
Àtrium Cinema (mozi) is an amazing example of Bauhaus architecture. Take a look inside and dive into another world! But it's also really worthwhile to actually indulge in the cinema-experience here, since Àtrium is one of the few cinemas in Budapest that regularly plays films in English or with English subtitles. See the upcoming English-language shows right here.
Bem Cinema
Bem is another amazing little alternative cinema right on Margit Ring Road. What's special about it is that it solely plays old classics and cult movies; you won't find anything contemporary here, at all. This makes Bem mozi a super interesting extension of the "Artmozi-network"of Budapest. They don't have a homepage, but you can check their upcoming screenings on facebook!
Want to explore Budapest even further?
Expat Press Magazine tip:
Find the hidden gems with a fresh city map! My Map of Budapest offers a carefully put-together, unique, and extremely useful map of Budapest that will guide you throughout the city. Have fun, eat, drink, party, and explore one of the most stunning cities of the world with the help of this handy guide!
Where to Eat and Drink
Bring your munchies, as Moszkva tér and surroundings have plenty of culinary delights to offer! As there is so much to try, we're going one-by-one, moving slowly away from the square along Margit körút. Ready? Good!
Directly on & around Moszkva tér
Galéria 12 is a casual, residential and super-pleasant wine-bar right behind Moszkva Square. This place is literally as local as it gets; the prices are fair and the tapas are delicious – try the Bruschetta-mix with homemade spreads and salad! Or go for the cheese platter. But you can also come really hungry, since Galéria 12 serves hamburgers, too. A special feature of this place is that it displays and exhibits artworks of the 12th district of Budapest.
Their mission is to become a meeting point for wine-and art lovers of the 12th district and beyond and they highly succeeded in this.
This little café right at the top of the shiny new escalators of the square is just the bonus cosiness factor that has been missing around Moszkva tér so far. Come here for a delicious coffee, a bundás kenyér (the Hungarian interpretation of French toast), some mouthwatering calorie bombs (cakes & pastries, that is) or the occasional German influence: This is the first place we saw in Budapest that actually sells Leberkäse! And if you don't know what that is, you just got one more rock solid reason to take a good look at Mókusch.
Zing started as a street food burger truck in 2013 and evolved to having three branches in Budapest. One of them is luckily right at Moszkva tér and brings the perfect youthful street food vibes into the area. All the ingredients and sauces are preparedin-house which makes for tasty and juicy burgers at fair prices. A perfect snack during any time of the day!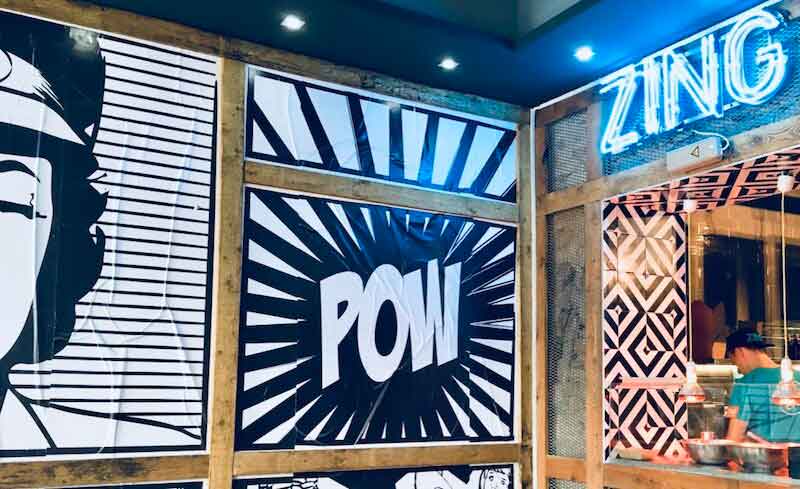 If you have a weakness for Mexican food like us, you will absolutely love Arriba. This little eatery is all about the best of Mexico and will serve you an absolute killer burrito you hadn't even dared dream of in your wildest dreams. The ingredients are fresh and even vegetarians will get their share with grilled vegetables instead of meat. Our tip: The "junior burrito" is enough, even for big and strong men. The "normal" size will stuff your whole family.
If you miss those times when a "kocsma" was just a "kocsma" and a "sör" cost less than 400HUF, you absolutely have to enter this little dive bar once. Pretty much nothing has changed here since probably the 80s and the only thing that's "craft" is the wiping of the tables once per month. Still, Mignon draws a very local and residential crowd and makes for a fun evening. Provided of course, that you leave each and every expectation in district VII about what a "cool" place should look like.
In & around Lövőház Street & Millenáris Park
Good and affordable fish is a scarce resource in Budapest. That's why we're all the more happier that we have discovered Nemo Fish. We're big fans of the "street food" section of the menu, especially their fish & chips which is really, really tasty. Plus they also have good wines and an array of craft beers well worth trying! What makes this place especially nice is its atmosphere. The interior is particularly cozy and homely plus the staff is super friendly and very eager to give recommendations. Worth a trip to Buda anytime!
Szalonspicc is one of the super unpretentious little wine bars that caters to the residents of this part of the second district. It's cheap, it's local and has nothing fancy about it. Still, the wine is good, they offer burgers and snacks and the atmosphere is nice. Szalonspicc is a very sharp contrast to the wine bars you might be used to around the Basilica area and the inner districts. Still, we somehow prefer these kinds of places, where you can simply come as you are. You can have a really great casual evening here!
Right opposite of Szalonspicc we bumped into Wine Market Bistro and Shop. This wine place also aims at the local crowd of the second district. Here, the value for money is actually remarkable. You get 1.5dl for just 500HUF and you can choose from a wide selection of food and snacks, too. The bar is simple but nice, the interior is rather traditional than hipster and all in all it's a great place to have a glass or two far away from the crowds. And obviously you can also take home a bottle or two. For that, take a look at the back room where you have a myriad of choices from all the different wine regions of Hungary.
As the name already suggests, this place is a big party for coffee addicts. The coffee is heaven here; it tastes so fruity and mild that you don't even have to add any sugar to your latte. Plus we love the deep blue-ish color selection of the interior! Another obligatory stop in lovely Lövőház Street.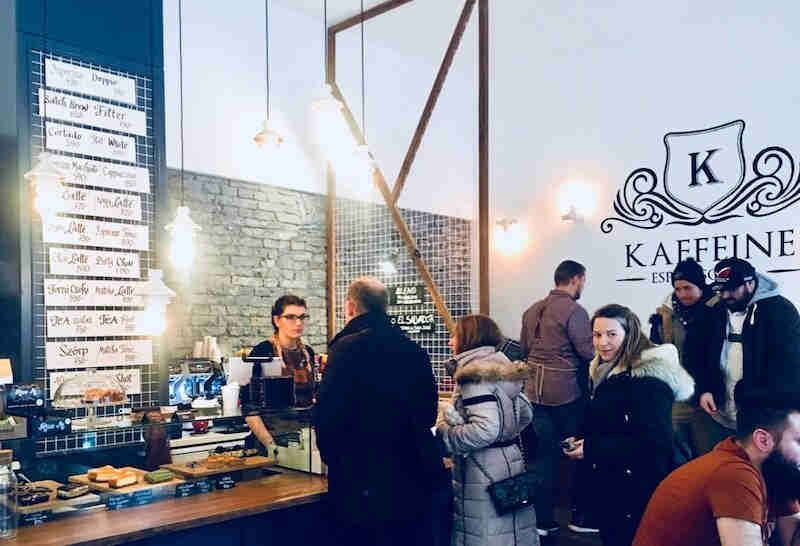 No words can describe Marxim pub, but we'll give it a try anyways: This is the place if you're into good old socialist stuff and have a sense of black humour. Everything is "vörös" (dark red) here, the flagship is a big red star, and the sitting areas are separated by barbwire. The motto? "Be marximalist!" And we haven't even talked about the "decoration" yet – suffice it to say it's brilliant.
The pizzas are named after important dates and people of socialist times. They are a hell lot tastier than they sound though! Think "Papa Marx's favourite", "Red October" or "Siberian Dream". A truly unique place for any afternoon or evening!
On & around Margit körút
Rózsadomb Eszpresszó is another must-see dive bar of the Buda side. Although Rózsadomb itself is one of the fanciest and most dolled up districts of Budapest, this bar couldn't have cared less about that. Instead, it decided to keep giving you one of the most authentic kocsma-experiences of the city. Although we're not sure, whether this was even a conscious decision. The lightning is pink-blueish on the ground floor and the furniture is nothing but original in the most essential sense of the word. Make sure to check out the upper floor, too!
Luckily, authenticity also shows in the pricing strategy here. Drinks are dirt cheap; a "viceházmester" (0,5l spritzer) will set you back by no more than 300HUF. This place draws a long- and well-established core of loyal regulars, but you'll find people of all ages here. It's a place for gathering, pre-drinking and having a good time without any kind of fuzz. Just leave any expectation for trendiness behind before you enter.
KicsiZsó is the perfect spot for a laid-back weekend brunch. This no-fuzz neighbourhood café sells delicious breakfasts and coffees. It's a super nice place to linger for a while and forget all the stress that surrounds us. Definitely try the bundás kenyér (Magyar French toast) and their freshly squeezed orange juice – it's worth it!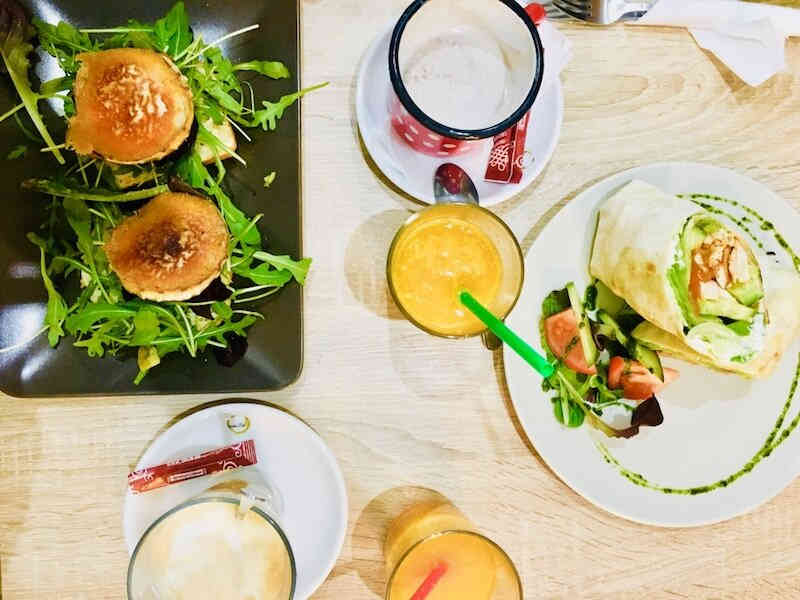 Bambi Eszpresszó is another amazing place for experiencing time travel in Budapest. If you're wondering what a typical coffee house looked like during socialist times, this is your go-to place. This is not a "dive bar", it's simply a typical "presszó" (café with a bar-touch) that hasn't changed since 1962. Neither the interior and furniture, nor the menu (and its prices, really). You absolutely have to try their "melegszendvics" (Hungarian toast with a thick cheese layer) or a pair of good old "virsli" (sausages). The crowd is very mixed here.
See Also
You'll find people of literally all ages, some of them regulars for decades, as well as artists and younger people who come for the retro experience. An absolute must-visit in Buda! And if you're wondering where the name comes from – Bambi was a typical sweet and super popular Hungarian soft drink sold during the 50s and 60s.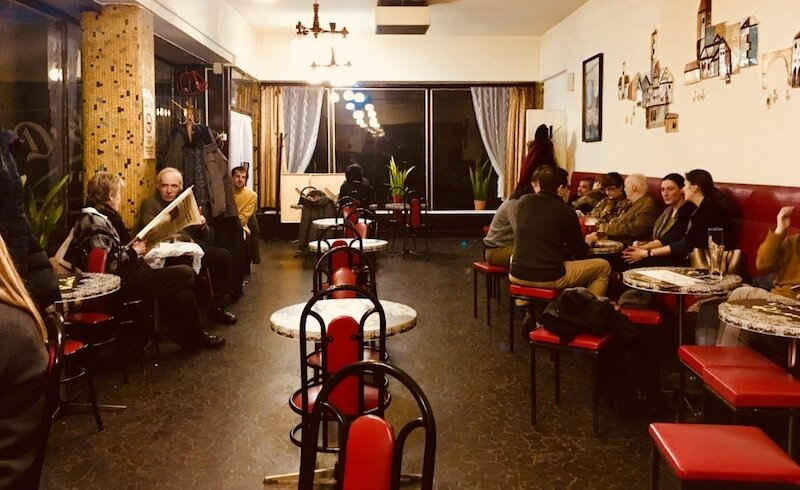 Where to Shop
Fény Street Market is the go-to place for super fresh vegetables, Lángos and kolbász. The farmers, as well as "Lángos Land" and "Sonka Sarok" will have you covered. It's also a great place to watch cute nénik and bácsik do their everyday shopping. This is a very residential, no-fuss, hassle-free, non-touristy market, so don't expect the beauty of Vásárcsarnok or Belvárosi Piac here.
What you can expect on the other hand is a pristine market experience with truly Hungarian prices and real fresh farmer's produces. Note that the market is mostly open air though, so don't pick the wettest and coldest day!
Lovebug Vintage
Lovebug Vintage is a super-cute little vintage-store run by Vivi Kertész in Budapest's 2nd district. It's an amazing little old-style flat turned into a treasure box of clothes, jewelry and knick-knacks Vivi brought here from all over the world. Trust me, this place has a soul and it's breathing. You can literally get lost for hours here just gazing, taking photos or indulging and trying on the various outfits. A must-see for every (female) fashion-lover!
Mirá
If you're into second hand shopping, Mirá is another great little store to check out. This is definitely no overly designed place. Still, the clothes are of good quality and you can get really good bargains here from shoes over coats and of course regular clothing. I find shopping second hand a great way to dress sustainably and fashionably at the same time. If you're with me here, definitely pop into Mirá once you're on Margit körút.
Buborék
If you need a little happiness-boost, head to Buborék. This little shop features all kinds of knick-knacks from Hungarian designers and beyond. You'll sure to find something you never know you needed but won't be able to live without. It's a great little colourful place right behind Moszkva tér and will sure lift your mood. It's a perfect place for buying gifts, too – either for yourself or for others.
Our Bonus Tip: Városmajor
If you have more time or want to get even further away from the Pest side, Városmajor in the other direction from Moszkva tér is a great option. There are some truly unique places that are definitely worth checking out:
Fasor Eszpresszó
Fasor Eszpresszó is another great place where time stood still in Budapest. This awesome pub is often overlooked, as the trendy Budapest crowd is usually searching for hipper and hipper places. And although I of course like the trendy hotspots too, nothing can replace a truly intimate and friendly atmosphere. That's exactly what we love Fasor for so much. This place will transfer you right to the pub culture of the 70s.
Note though, that unlike at Rózsadomb Eszpresszó, Mignon and Bambi, some renovations and fine-tunings have been going on here to achieve the retro atmosphere. The ceiling is made of vinyls and you'll see lots of old tapes as well as adverts and other blasts from the past. An awesome social and very unpretentious place truly worth checking out!
The Heart of Jesus Church, Városmajor
Although by no means a beautiful church building by common beauty standards, the Heart of Jesus Church at Városmajor is definitely an interesting thing to see. Built in the 1930s, it is regarded as a milestone of modern Bauhaus church architecture, as churches were usually built in a neo-baroque style at that time. Aladár Àrkay, the architect, didn't care about that and built something that was often frowned upon as being the "garage of God" during that times.
He was an adventurous architect and decided to also separate the bell tower from the rest. Today it's the pride of people living in the area. And whether you like it or loath it, it's definitely a super interesting architectural gem to see in Budapest.
Note that Àrkay is also the architect who's behind some way better known buildings and monuments in Budapest. Just think of the famous Gellért Monument we're sure you've seen already more than once.
Majorka
Majorka is one of our favourite terraces of Budapest. Its best part is that it's open year round and makes for a super cozy semi-outdoor location. Even on the coldest winter days! We usually come here for a good cup of tea or lemonade, but they also serve beer and all the usual drinks. Plus the burgers are really good here! What's really special and unique about Majorka is it's venue.
Note how the bar is located in a former electric transformer building. Sounds not as romantic as it actually turned out to be, so check it out yourself!
Fióka
Fióka is a great little Buda restaurant, located in a building that was probably a former tram stop or signal box. Sounds romantic? Trust us, it is! Actually, Fióka makes for an awesome date location providing excellent food, wines and service. A great place for a romantic dinner, celebrating a special occasion or just to treat yourself with some good food. Plus their terrace is heaven during spring and summer.
We hope you enjoyed our little neighbourhood guide. Hopefully it'll help you discover a whole new Moszkva tér you didn't even know existed. We wish you a lot of fun trying everything out! If we've managed to help you in any way, don't forget to tell your friends and share!