Mark your calendars for Pentecost weekend! Once again, gastronomy lovers just have to visit the Millenaris Park for the OTP Gourmet Festival from 17-20 May, exhibiting the country's best restaurants, bakeries and wineries. The festival also introduces the latest delicacies and the best of international gastronomy.
The main themes of this year's festival include dumplings, caviar and sparkling wine;
Award-winning Executive Chef Heinz Reitbauser from 2 Michelin-star Steirereck, regarded as the tenth best restaurant in the world, will be the main international star of the festival;
Chefs from all of Poland's Bib Gourmand restaurants, Kamilla Seidler, best female chef from South America, and Maksut Askar, chef at Neolokal in Istanbul will all appear on stage as well as host exclusive dinners;
There are a limited number of spaces for the exclusive lunches and dinners. In addition to those mentioned above, five restaurants from the Hungarian countryside and 5 Budapest restaurants will also be preparing special menus;
Workshops will be held by Ádám Pataki, confectioner; Ákos Sárközi, chef of Michelin-star restaurant Borkonyha; László Jahni, chef of Kistücsök, along with Zé Fördős, Piros Vágó, Zsolt Anger and Zsófi Mautner
There will also be exciting shows on stage: Zazzi will reveal the famous Édes álom (Sweet dream) recipe, Reitbauer will be preparing mushrooms in a variety of ways, while the audience can also get to know the flavours that Csallóköz works with, and find out from Szása Nyíri how caviar is made. The 2 Michelin-star Onyx and the 160-year-old Gerbeaud will also have special programs. Ádám Pohner will be here ahead of his June championship, where he will be representing Hungary at the Bocuse d'Or international chef championship;
This year again we will present the Gourmet award based on the decision of the audience and the favourite dish of the professional panel;
And we haven't forgotten about kids either: the festival entry is free for anyone under 14, and there will be activities for kids, courtesy of Kerek Perec and Chefparade.
International Stars at Millenaris
This year's 'headliner', Heinz Reitbauer, is the owner and head chef of the Austrian restaurant, Steirereck," says Richárd Nemes, the main organiser of Gourmet. "With 2 Michelin stars and 19/20 Gault Millau points, Steirereck is ranked the tenth best restaurant in the world, and Reitbauer was chosen as last year's Chef of the Century by the Gault Millau in Austria. He is currently the best Austrian chef" revealed Nemes, adding that 4 Polish Bib Gourmand restaurants will be coming to Budapest too.
"We can also tell you that we will be hosting famous chefs not only from neighbouring countries, but also from all over the world, including Kamilla Seidler, Latin America's best female chef. She is co-owner with Claus Meyer of Gustu in La Paz, where she was executive chef until recently. She is currently working on opening a new restaurant" said Nemes. He also revealed that Maksut Askar, executive chef of Neolokal, Istanbul's best restaurant, will be visiting Budapest. Discovered last year by 'The Diners Club World's 50 Best Restaurants Academy', he has reinvented Anatolian cuisine by re-exploring resources and supplies, and incorporating them in modern, contemporary dishes. Both Seidler and Askar will appear on stage and host exclusive dinners.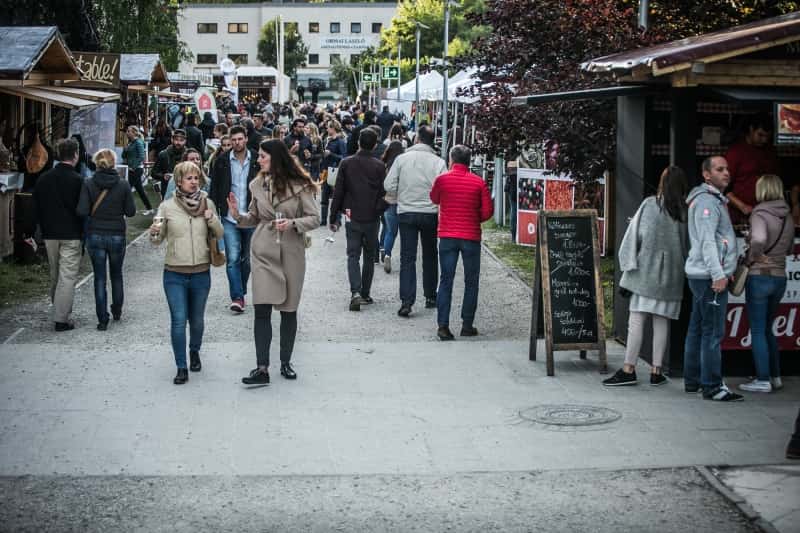 Exclusive lunches and dinners
The best Hungarian restaurants and guest chefs are to host exclusive lunches and dinners again since these were a major hit last year. For those who wish to take part, make sure and register in advance.
List of hosts:
Warsaw's four Bib Gourmand restaurant chefs will co-host – Alewino, Brasserie Warszawska, Butchery & Wine, and Kieliszki na Próznej
As part of the ever-popular countryside series: Anyukam mondta, a restaurant from Encs; Platán restaurant in Tata, managed by the highly respected István Pesti; Erhardt restaurant from Sopron; Macok from Eger, and Viator from Pannonhalma
Gustu restaurant from La Paz, hosted by Kamilla Seidler, "Best Female Chef in Latin America"
Budapest chefs from Baraka, Csalogány 26, Mák, Rosenstein and St. Andrea Wine & Gourmet Bar
Maksut Askar, Executive Chef of Neolokal, Istanbul
After tasting dishes prepared by some of the most well-known chefs you may want to try recreating them at home. To help you do this there will be Gourmet workshops. Visitors can take part in a wide variety of programs. Do you want to learn how to make the perfect burger, how to incorporate coffee into different dishes, or how to rustle up something delicious when you don't have a lot of time? Are you a fan of fish? Do you adore good home-made burgers? Is Italian cuisine your absolute number one? Are you just starting out in the kitchen and looking for easy-to-make and trendy recipes? The amazing hosts will be your guides and teach you all you need to know!
See Also
For tickets and more information, visit the festival's website.