Hungary is a country full of surprises and fascinating stories. From Hollywood to wine regions and inventions, here are some facts about Hungary you might not have known.
Whether you're a history buff, a wine enthusiast, or a lover of puzzles, Hungary is a country that is sure to fascinate and surprise you.
Hungarian Talent in Hollywood
Did you know that there are interesting facts about Hungary's contribution to the creation of Hollywood? Two Hungarian immigrants, Adolph Zukor and William Fox, established film corporations that became some of the most powerful companies in the movie world.
Zukor founded Paramount in 1912 and produced classics like The Count of Monte Cristo (1913). Fox, on the other hand, founded Fox Film Corporation in 1915, which later became the Fox we know today. The Korda brothers, including Sir Alexander Korda, also marked the beginning of the European film era and settled in Great Britain.
Hungarian directors have made a significant impact on Hollywood, with several famous films to their credit. One of the most iconic films ever made, Casablanca, was directed by Michael Curtiz, a Hungarian-American filmmaker. Curtiz also directed other notable films such as Mildred Pierce, The Adventures of Robin Hood, and White Christmas.
Other famous Hungarian directors include Vilmos Zsigmond, who won an Academy Award for his cinematography in Close Encounters of the Third Kind, and István Szabó, who directed the Oscar-winning film Mephisto.

Hungary has also contributed significantly to the world's inventions. For instance, the Rubik's Cube, the world's best-selling puzzle game, was invented by a Hungarian, Ernő Rubik.
Additionally, the Biro pen (ball pen) was invented by another Hungarian, László Biró, and  József Galamb, a Hungarian mechanical engineer, designed the Ford Model T.
Miksa Déry was a pioneer in the field of electrical engineering and is known for inventing the first practical transformer, a device that revolutionized the way electricity is transmitted.
Collaborating with Károly Zipernovszky, Miksa Déry improved the transformer, and together they developed the first high-efficiency transformer in 1885.
Another prominent Hungarian inventor, Ottó Bláthy, developed the sonar system for detecting submarines, a technology that became widely used during World War I. Bláthy's innovations also extended to steam turbines, and he invented a more efficient turbine design that helped to increase energy production.
These inventors and their groundbreaking work have left a lasting impact on the world of science and technology.
The World's First Official Wine Region
Hungary is home to the world's first official wine region. Tokaj, a small town in northeastern Hungary, is where wine has been produced since the 5th century A.D. In 1737, King Károly named the Tokaj wine region a national wine area, making it the world's first official wine region, almost 120 years before France's Bordeaux.
Tokaji Aszú is also known as the King of wines, and Louis XIV of France once said about it, "Wine of Kings, King of Wines."
So, aren't these some fascinating facts about Hungary?
The second largest synagogue in the world
The Dohány Street Synagogue in Budapest is a significant landmark for the Jewish community, as well as for those interested in facts about Hungary. It is not only the largest synagogue in Europe but also the second largest in the world, with a seating capacity of 3,000 people. This grand structure is a beautiful blend of architectural styles, with elements of Romanticism, Byzantine, and Moorish styles.
It was designed by the Viennese architect Ludwig Förster and opened in 1859. The synagogue is part of the Budapest Jewish Quarter and is a significant historical and cultural landmark, attracting tourists from all over the world. The Dohány Street Synagogue is also part of the UNESCO World Heritage Site, which is a testament to its significance in Hungarian history and culture.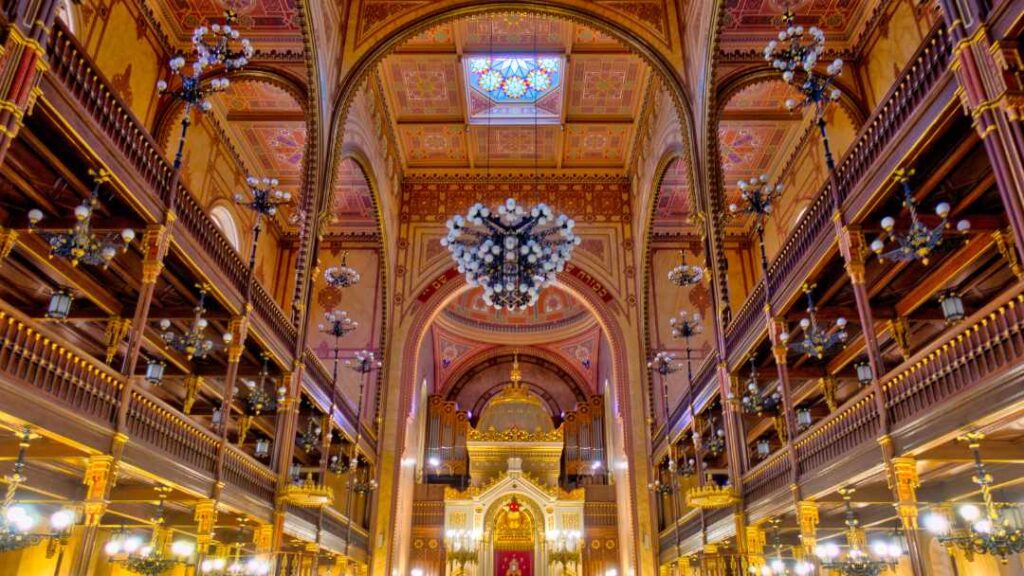 Hungarian Nobel Prize laureates
Hungary has a remarkable history of producing Nobel Prize laureates, with a total of 13 winners since 1905. Hungarian laureates have been recognized in the fields of Physics, Chemistry, Physiology or Medicine, Literature, and Economics.
The country's Nobel laureates include Philipp Lenard in Physics in 1905, Róbert Bárány in Physiology or Medicine in 1914, and Imre Kertész in Literature in 2002.
Albert Szent-Györgyi received the award in Physiology or Medicine in 1937 for his work on the biological combustion processes, including Vitamin C, while Eugene Wigner was awarded the prize in Physics in 1963 for his contributions to the theory of the atomic nucleus and elementary particles.
Two Hungarians have won the Nobel Prize in Chemistry – George Andrew Olah in 1994 for his contribution to carbocation chemistry and Avram Hershko in 2004 for the discovery of ubiquitin-mediated protein degradation.
Additionally, Hungarians have been recognized for their work in economics, with John Harsányi receiving the Nobel Prize in 1994 for pioneering analysis of equilibria in the theory of non-cooperative games.
491 Olympic medals
Hungarians have a long and impressive history of success in the Olympic Games, and it's one of the interesting facts about Hungary.  The first Hungarian athlete to win an Olympic medal was Alajos Szokolyi in fencing in 1896, the first modern Olympic Games in Athens.
Since then, Hungary has produced many great Olympians including Aladár Gerevich, who won six gold medals in fencing between 1932 and 1960, making him one of the most successful Olympic athletes of all time. Hungary has also dominated in sports like water polo, winning a total of nine gold medals, the most of any country.
Their women's handball team is also among the most successful, winning three gold medals and a silver. Overall, Hungarians have won 491 Olympic medals, including 175 golds, which is an impressive feat for a country with a population of only around 9 million people.
The first electrified underground railway system
Hungary has the second oldest underground railway system in the world, after London. The Budapest Metro, which began operations in 1896, was the first electrified underground railway system in continental Europe.
Let's splash
Hungary is also known for its thermal water springs, with over 1300 in the country. These springs are said to have healing properties and are popular tourist attractions.
The origin of "Coach"
Lastly, did you know that one of the interesting facts about Hungary is that the word "coach" comes from a little Hungarian village called Kocs? The village was known for its horse-drawn carriages, which were exported to other countries.