Although we missed out on the festival last year due to the pandemic, the Budapest St. Patrick's Day Parade 2023 is back, and ready to paint the town green once again.
St. Patrick's Day is a well-known festival celebrated annually on March 17th in many countries around the world. It's a day where people wear green and celebrate the Irish culture, heritage, and patron saint, St. Patrick.
Budapest St. Patrick's Day Parade 2023 programs
The festivities will begin at 13:00 on Sunday, March 19th, at Szabadság tér, where people can enjoy various forms of entertainment before the parade starts. From there, the parade will head towards the magnificent Hungarian Parliament, turning down Széchenyi rakpart, around Széchenyi tér, down Zrínyi utca past St. Stephen's Basilica, before heading down Sas utca and back to Szabadság tér.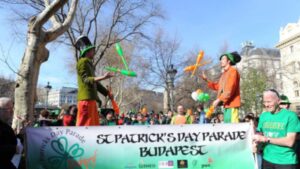 The square will be filled with all sorts of entertainment, including Irish music and dancers, face painting, and Gaelic game demonstrations. Visitors can enjoy a wide variety of food and drink concessions while taking in the sights and sounds of the festival.
St. Patrick's Day is always a fun event that brings together people from all walks of life to celebrate Irish heritage and culture. There will be plenty of Irish music and dance to keep everyone entertained, and of course, no St. Paddy's Day celebration would be complete without a pint of Guinness or two.
Exhibitions and celebration in Győr
Don't worry if you can't make it to Budapest, as the Embassy of Ireland in Győr will be launching a new documentary film, "The Story of the Irish Madonna," which tells the tale of the painting of the Madonna and celebrates the close links between Ireland and Hungary.
In addition to the documentary film, the Embassy will be launching an exhibition that celebrates 50 years of Ireland's membership of the EU and Ireland's early influence on the development of learning and political thought in medieval Europe.
As we mark the centenary of joining the League of Nations and the 25th anniversary of the signing of the Good Friday Agreement, Amb. Ronan Gargan notes that these anniversaries highlight Ireland's commitment to peace, democracy, the rule of law, and human rights, and form a significant part of the St. Patrick's Day messaging.
So, whether you're an Irish expat living in Budapest or someone who simply wants to join in on the fun, head to Szabadság tér on March 19th from 13:00 to 17:00 and help celebrate St. Patrick's Day in style. It's a chance to immerse yourself in Irish culture and enjoy a day of fun and festivities in one of the most beautiful cities in Europe.
Come and celebrate with us in Budapest and Győr, and let's raise a glass to St. Patrick! See you there!