Are you a fellow dog owner freshly moved to a new city? Do you not know where to take your furry friend on a walk or are simply just bored of the same old spot? Here are a few recommendations that will prove to be exciting for both you and your pet.
Margaret Island
I am sure you all know Margaret Island, which is one of the special tourist attractions of Budapest. It is a big green space with freshly renovated road infrastructure, a fountain, cafes, and sports facilities. Despite all these wonderful activities, Margaret Island still boasts large open green fields, which are perfect for your dog to run about. There are bins every 50 meters or so, where you can dispose of the occasional tiny package your dog leaves you, as well as drinking fountains where your dogs may also drink some water.
I would recommend having a leash, however, as in some areas of the island, there are a lot of families with children who might be afraid of your dog.
Római Part
Romai part is at the Northern end of Budapest. It is Hungarian for "Roman embankment", and it is a true paradise for lovers of water. In the summer it can be a little crowded, especially in the evenings due to the many cafes, bars, and small restaurants by the Danube, that have a unique vintage feel and attract many locals and also a few tourists. However, it is usually a very good place for your dog to run around and take a dip in the Danube River, while you have the opportunity to sit down in the shade.
Zsámbék
About 45 minutes from the centre of Budapest by car, but also easily accessible by public transport, you will find the charming village of Zsámbék. Here there is a pleasant hike that starts from the Zsámbék ruin church, which leads to a grassy field on the top of a smaller hill. The road up is a little challenging, but I can recommend it as the view from the aforementioned plain is beautiful and unique. The hike back downhill will seem a lot shorter, and thus concludes a hike of about 3.5km. It is a good idea to finish your trip at the small inn called "Matyi Kultúrbisztró" at the end of the trail, which provides you with a nice view of the ruin church. The restaurant is dog friendly and offers traditional Hungarian dishes.
A bejegyzés megtekintése az Instagramon
Hajógyári sziget
A little further north from Margaret Island you will find the Hajógyári Sziget, which exactly translated means "Shipyard Island" and is usually where the internationally renowned pop music festival "Sziget" is organized each August. It is very popular among dog-owners, as the island consists mainly of large grassy plains, which are perfect for your dog to run about. At the northern peak of the island, you can walk down to the Danube, and also to a part where the current is not that strong, therefore you need not worry about your pet being carried away by the water.
A bejegyzés megtekintése az Instagramon
Szent István Park
The Szent Istvan Park is encircled by a 100m long, closed-off area for canines, which makes it one of the largest off-leash parks in the city of Budapest. It is centrally located in the 13th district by Pozsonyi út, therefore it is easily accessible by public transport. I do not recommend going here by car, as it is difficult to park. The ice cream shops Fragola and Dunapart are located right next to the entrance, hence are a nice way to finish for dog owners to end a walk on a hot day.
Dog park in Olympic park
Another great dog park is the Olympic park, in the 5th district, directly next to the parliament and overlooking the Danube. It has a double-door entrance, which is great to ensure your pet does not leave the park unnoticed. Furthermore, there are benches in the shade for owners to rest on while their dogs move their legs a bit. You will also find water fountains where you may provide your dogs with water.
A bejegyzés megtekintése az Instagramon
Bikás Park
Recently renovated in 2014, this park is a beautiful green expanse where your pet and you may both exercise a bit. It is located in Újbuda, the 11th district of Budapest, and has a separate metro station that has an exit leading directly to the park. Here you will find sports infrastructure for yourself such as a running track, basketball courses, and an open-air gym, but also a separate walking track for your dog running parallel to a normal running track, so that you may run together.
A bejegyzés megtekintése az Instagramon
Dobogókő
Again, this walk is more of a hike with some elevation, it is, however, a great opportunity for your dog to discover new terrain, and some new scents, while also proposing a great adventure for your both. The hike itself is 7km long and starts from the Dobogókő parking lot, which is 39km away from Budapest. You will have the opportunity to see some beautiful natural scenery, and it is usually not too crowded. At the end of your hike, you will also find a small buffet, which is dog-friendly and you can also buy yourself some refreshments.
A bejegyzés megtekintése az Instagramon
Zebegény Duna-part
In the vicinity of Budapest, you will find the town of Zebegény. It is located about 68km from the capital city and is the starting point of many hikes. Its riverside is beautiful and an ideal place for your dog to run about and go for a swim. There are also a couple of buffets where you can buy yourself something to eat and drink. The town itself is, however, also an enchanting place to spend a day in. In the summer – especially on the weekend – it can be very crowded, but I can highly recommend walking in Zebegény on the weekend in the spring, early summer, and autumn.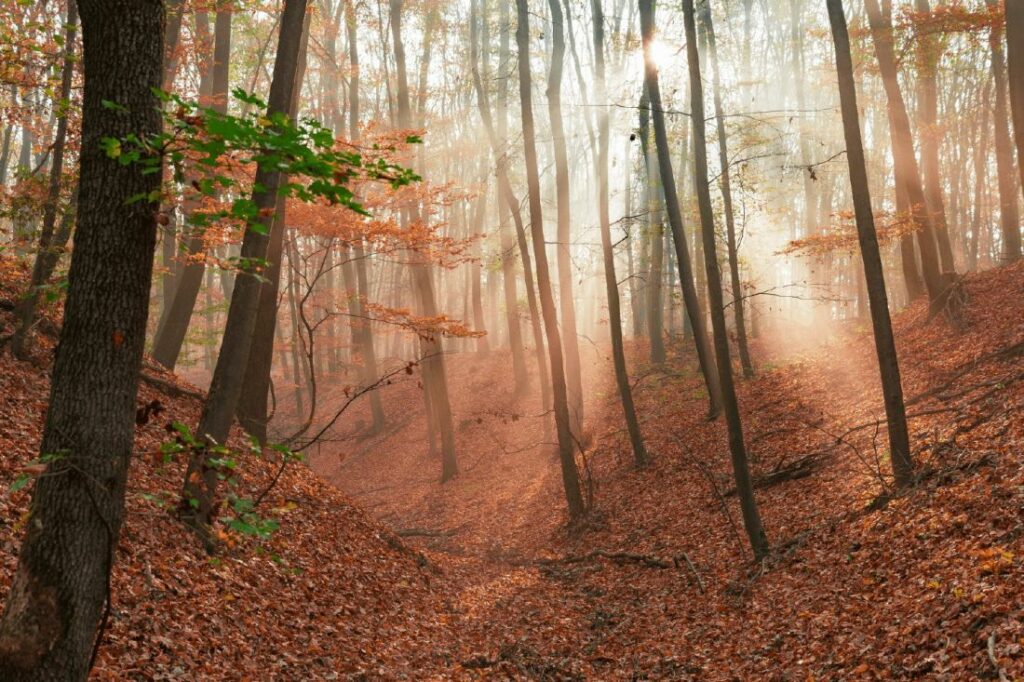 Hármashatárhegy
Finally, I recommend another hike-like walking spot in the heart of Budapest. Hármashatárhegy is a group of three hills on the Buda side that can be seen from almost any part of the city. There are multiple hiking trails that you can go on, some more challenging than others, accessible from different parts of the city. I usually start either from Fenyőgyöngye bus stop or from Pasaréti út in the second district. It is a popular destination for walking dogs, running, and also mountain biking, although the latter is not that common, so you don't have to worry about your dog getting hit by a bike. It also provides a lovely view of the city, while also being a natural retreat.
A bejegyzés megtekintése az Instagramon